Getting online in the Kurdistan Region of Iraq
This is the first part of a three-part blog series by REFUNITE's Middle East Project Manager, reflecting on her findings from a recent trip to Iraq. This part focuses on ways that Syrian refugees and Iraqi Internally Displaced People (IDPs) get online and use the Internet. Getting online in the Kurdistan Region of Iraq … Continue reading Getting online in the Kurdistan Region of Iraq
This is the first part of a three-part blog series by REFUNITE's Middle East Project Manager, reflecting on her findings from a recent trip to Iraq. This part focuses on ways that Syrian refugees and Iraqi Internally Displaced People (IDPs) get online and use the Internet.
Getting online in the Kurdistan Region of Iraq
Reporting research findings comparing how Syrian refugees and Iraqi IDPs access the internet in the three camps in Dohuk, Iraq.
* Any names of interviewees used have been changed to protect their identities.
Iraq is of great interest to REFUNITE, as it's somewhere we've seen a spike in users, raising questions back at the Nairobi office. In an attempt to begin to answer them, I had the opportunity recently to travel to the Kurdistan Region of Iraq (KRI) as part of our ongoing market research in the Middle East. Taking a step back, we wanted to know what is the level of need for a family tracing service like REFUNITE? And how are people communicating with family and friends they are in touch with? This means looking at what technologies are used regularly by our target users to better understand how we might better reach people and connect them to their missing loved ones.
In Iraq, REFUNITE and Ericsson have partnered with mobile network operator Asiacell, allowing  Asiacell subscribers to register and search for missing family and friends, even if they are offline, by using the SMS free shortcode "380."
Recognizing that smartphone usage is skyrocketing globally, including among displaced populations, at REFUNITE we recently partnered with Facebook's initiative, Free Basics. Since December 2015, Free Basics has been live in Iraq, meaning Korek subscribers can access REFUNITE's mobile platform for free.
Almost all of the 246,000 registered Syrian refugees in Iraq are Syrian Kurds living in the Kurdistan Region of Iraq. According to the International Organization for Migration, there are also 3.5 million Internally Displaced People (IDPs) in Iraq, displaced by ISIS, militia activity, security fears, and past conflicts. Of this total, approximately one million IDPs currently live in the three governorates that comprise the Kurdistan Region of Iraq: Dohuk, Erbil and Sulaymaniyah.
Working with our partner Asiacell, with support from Ericsson's team, I was able to conduct research in two refugee camps and three IDP camps in Dohuk and Sulaymaniyah governorates, speaking with 75 people. One aspect that stood out during this research was the different ways people get online. While we had seen consistency with how Syrian refugees in Jordan access the internet (typically using data bundles from Zain or Orange), in Dohuk governorate alone, I found that there are big differences in preferred Internet access, even between camps that are just 30 minutes drive from each other. Although REFUNITE is accessible through SMS and call center, increasingly we are seeing people register and search online. In this blog we'll take a closer look at the ways Syrian refugees in Domiz camp and Iraqi IDPs in Khanke and Dawodiya camps get online.
Domiz refugee camp
South-east of Dohuk city, 60 km from the Syrian border and 70 km from ISIS-occupied Mosul, is Domiz refugee camp. Home to more than 40,000 Syrian refugees (predominantly Kurds), Domiz is the largest camp for Syrian refugees Iraq. Almost everyone in our focus group discussions had a smartphone, but were they able to use the internet capabilities on their phone? Since Domiz camp was first established in Mobile network operators had installed cellular network towers to strengthen the signal in the area, but most of the 27 Syrians we spoke with in focus group discussions preferred to use 'Fast Link," which is a personalized wifi device.
Reswan*, the young woman from Qamishli, south-east Syria, holding her device in the photo above, stressed to me that the reason she uses Fast Link is that it offers a strong, fast and reliable network, better than the 3G options offered by mobile network operators. Reswan's mother, on the hand, owns a smartphone but is illiterate. Reswan had organized a workshop at the community center for illiterate older women like her mother teaching them how to use the voice recording functionality on Whatsapp. In the evenings, Reswan's mother would use Reswan's or her sister's smartphone and Fast Link to play online games like Tango and Farmville.
Fast Link offers Syrian refugees in Domiz camp 4G coverage, is comparably cheaper than mobile 3G data bundles, and can be used during the power cuts which are a daily occurrence across Iraq. In fact, when I first arrived in the KRI and went to buy a sim card, the sales assistant at the small mobile phone shop in Erbil advised that I purchase a personal wifi device like Fast Link. Most Syrians used Fast Link if they can afford to, buying a monthly package of 3GB for 15,000 Iraqi Dinars (IQD), equivalent to $13.55. Once online, they'd use a combination of apps such as Whatsapp, Viber, Facebook, Skype and IMO to stay in touch with family and friends in Germany, Turkey, and other overseas countries. Hearing Syrians in Domiz camp compare the available options highlights technology literacy and cost-consciousness of potential REFUNITE users – important to keep in mind when designing and localising for users.
Khanke IDP camp
Although it's nearby Domiz refugee camp, the situation in Khanke IDP camp was completely different – a reminder of the importance of user research and always testing assumptions! Khanke camp is home to 16,000 IDPs, mostly Yazidis from Sinjar province who fled ISIS, with even more encamped informally outside the Khanke camp. Upon entering Khanke IDP camp, I was amazed by the number of 'wifi cafeterias' I saw – tented internet cafes offering patrons wifi, nargileh (a hookah or waterpipe), drinks and snacks.
A green tent in particular caught my eye, and we stepped inside to meet its owners. Two enterprising brothers, Hasan, 19, and Sufyan, 21, charged 500 IQD ($0.50) for one hour of wifi use. The cafe also sold nargileh for 2000 IQD ($1.81) and was like a corner shop, selling snacks such as potato chips which kids would run in and buy. While we were there, one young man entered wanting to use the wifi to check his Facebook – but the power was out, meaning wifi was down too.
As we seek to find the best way for people in different contexts to access REFUNITE's family tracing platform, we have to consider how age and gender impacts user profiles. Wifi tents were the preferred means of accessing internet for young IDPs with smartphones, while older generations had basic feature phones with no access to Internet. The women we met had smartphones but did not use the Internet. However, Sufyan and Hasan did mention that women sometimes use the wifi cafeteria too, staying just outside the tent's entrance, as to enter the tent would not be appropriate in Yazidi culture.
The more than 16,000 residents of Khanke seemed to be in a more difficult position economically than Syrians in Domiz refugee camp, and were generally from more rural and poorer backgrounds. According to the young male Internet users we met in Khanke camp, the data bundles offered by mobile network operators were too expensive. This explains the preference for the much lower rates at wifi cafeterias, similar to the popularity of cyber cafes around the world before it became more affordable to have a personal internet connection. There were also connectivity issues, with alternative options (such as Fast Link) not available in this area.
Dawodiya IDP camp
While Domiz refugee camp and Khanke IDP camp are both south-west of Dohuk city, Dawodiya IDP camp (also spelt Dawadia or Dawudiya) is north-east and much further, over an hour's drive away. Snow-capped mountains are visible in the distance, and the spring mountain air was cooler. When we visited in March 2016, Dawodiya IDP camp was home to just over 4200 displaced people according to the numbers meticulously kept by the camp manager; mostly Yazidis, with Christian, Turkmen, Muslim Kurds and Arab families also living in the camp. I arrived eager to learn about not just family tracing needs, but potential REFUNITE users' habits when it comes to engaging with technology, helpful information when delivering a platform through a variety of mobile technologies!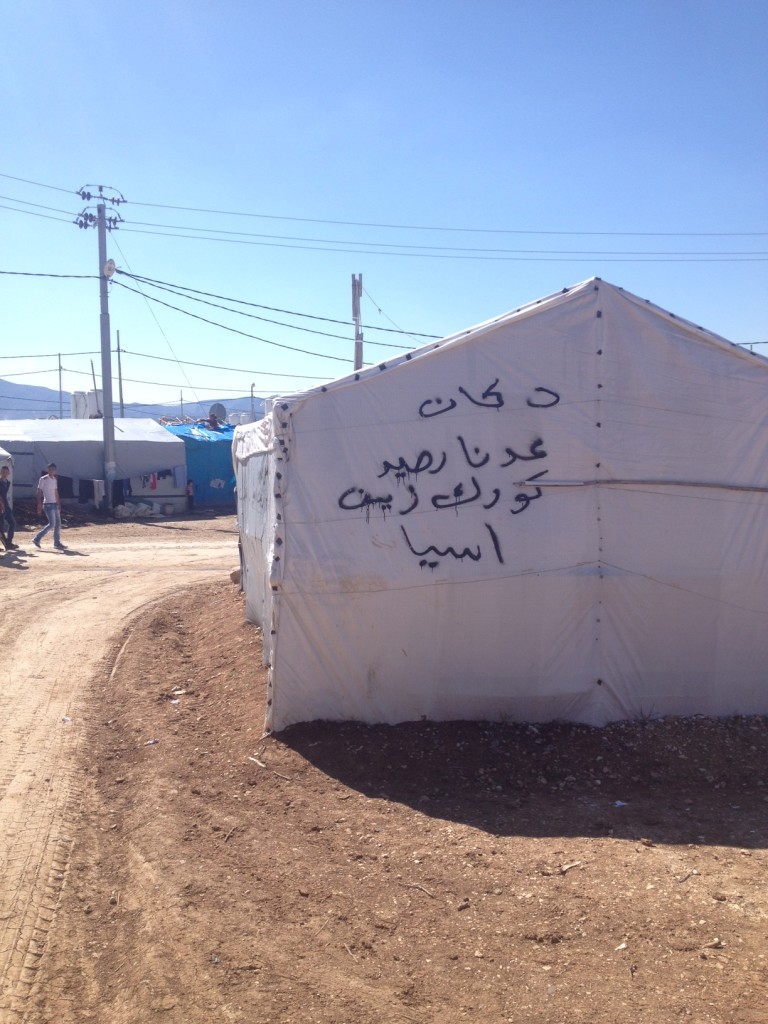 Small tented stores advertised that they sold credit for Korek, Zain and Asiacell sim cards, however we did not see wifi cafeteria tents as in Khanke IDP camp. In Dawodiya camp, we didn't see any wifi cafeterias or personal wifi devices that people carried around with them. Instead, most people accessed the internet using 'Reber,' a wifi offering from Nowruz Telecom, available only in the Kurdistan Region of Iraq. The small devices are 'nano stations' and require a high initial cost of 65,000 IQD ($58.75).
Small wifi devices – 'nano stations' – on sticks above prefabricated houses were a common sight in Dawodiya, appearing above most homes as standard as satellite dishes. People we spoke with tended to opt for a package where they pay 25,000 IQD ($22.60) a month for 7GB, sharing this among their family members. The 20 people I met in the camp were from Sinjar city; a more urban population and economically well-off population than the IDPs in Khanke. Most had used Internet before their displacement in the summer of 2014 and were used to having regular Internet access. While there was cellular network signal available, there is not yet 4G coverage like Fast Link available in the rural, mountainous area where Dawodiya is situated. With multiple members in households using wifi, and limited mobility outside the camp due to its rural location, Dawodiya camp's residents had found that the best option for them currently is wifi at home. They used wifi to connect with family and friends overseas, and ordinary phone calls to reach those in the camp or elsewhere in Iraq.  
Conclusions
All three camps mentioned above – Domiz refugee camp, Khanke IDP camp and Dawodiya IDP camp – are located in Dohuk governorate. During my research, it was interesting to see large variances between how displaced populations in each camp accessed the Internet, even within the same governorate. Choices were constrained by what people could afford, and what options were available in a given geography.
As the REFUNITE team increasingly looks at how we might reconnect users with Internet-enabled smartphones, understanding the complexities of accessing the Internet in a given geography, is crucial when designing for our users. Talking with people in the camps was also a vital reminder that displaced people are still discerning consumers and customers, who make choices and find the deal that works best for their needs.
Internet access is also not necessarily considered a priority when it comes to refugee and IDP camps, given the urgency of other basic humanitarian needs like food, shelter, and healthcare. In an age where we can chat to friends on Facebook Messenger, send voice messages over Whatsapp and make cheap international calls through Viber, using such tools to stay in touch with friends and family, and getting online to do so, is incredibly important, no matter where you live.
Stay tuned for more research insights from the Kurdistan Region of Iraq in coming weeks. The next part in this blog series will explore user needs in more depth.  
Hundreds of families are reconnected through our work every month, often after years of searching for their missing loved ones.
Any donation will help separated families reconnect.